Saturday, June 13, 2009
Iran's election commission still hasn't counted all the votes (roughly
32 million votes
in total), but, according to the
official results
based on
about 28 million votes
counted so far, Ahmadinejad (18,302,924 votes) defeated Mousavi (8,929,232 votes).
Most of the Western media were predicting a close race, and some were even suggesting that a landslide for Mousavi might be possible. But the actual results were presaged by those of the
telephone survey
of Iranian voters conducted by
Terror Free Tomorrow: The Center for Public Opinion
, the
New America Foundation
, and
KA Europe SPRL
about a month before election day.
TFT/NAF/KA Survey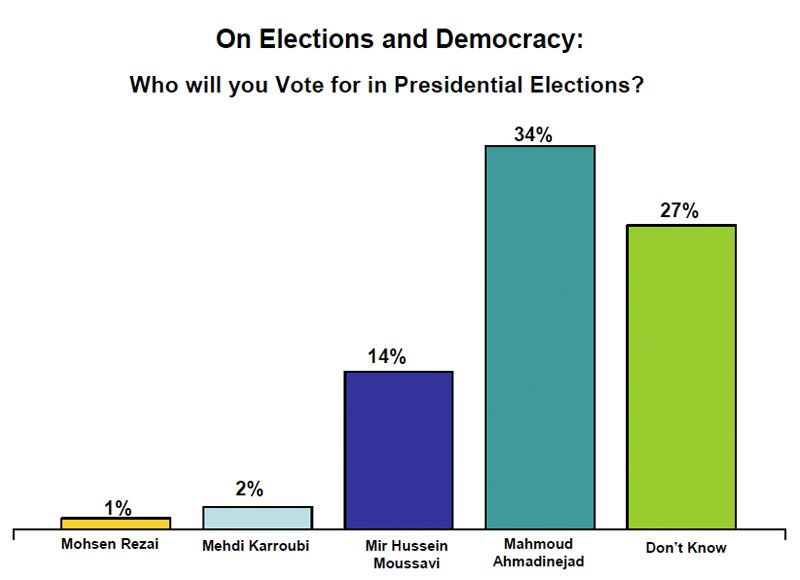 Official Results as Reported by BBC Persian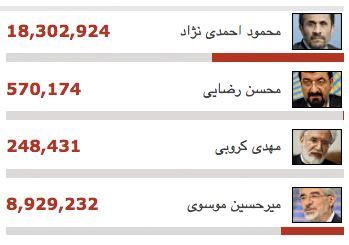 IMHO, it's
a class vote
again.
UPDATE
Based on the counting of nearly 31 million votes, the results are 19,761,433 votes for Ahmadinejad, 9,841,056 votes for Mousavi, 633,048 votes for Mohsen Rezaei, and 270,885 votes for Mehdi Karrubi.
Official Results as Reported by BBC Persian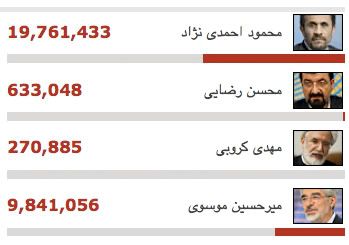 Labels: class, empire, iran, media, ruling class, working class